Infowars.com
March 19, 2013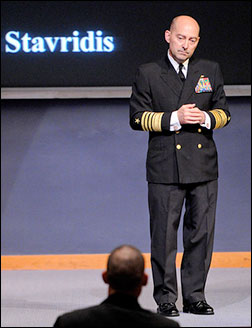 Following unconfirmed reports al-Qaeda used chemical weapons, the top U.S. commander in Europe told the Associated Press NATO is preparing to intervene in Syria.
Adm. James G. Stavridis told the Senate Armed Services Committee Tuesday the U.S. will play a direct role in taking out Bashar Assad's government if called upon to do so. "We are prepared if called upon to be engaged," he said.
In addition to a direct military role, Stavridis said NATO is looking at ways to turn the conflict around in favor of the CIA's mercenary army consisting largely of al-Qaeda terrorists. Minus the discplined fighting ability of the Islamic terrorists, the FSA would have capitulated to the well-armed professional Syrian army months ago.
Read entire article HERE