Jurriaan Maessen
Infowars.com
February 11, 2012
In its 1984 World Development Report, the World Bank suggests using "sterilization vans" and "camps" to facilitate its sterilization policies for the third world. The report also threatens nations who are slow in implementing the bank's population policies with "drastic steps, less compatible with individual choice and freedom."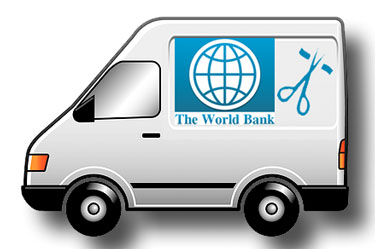 The report, literally saturated with dehumanizing proposals, is devoted entirely to the World Bank's long-term strategies in regards to population control and does not shy away from proposing the most draconian methods in order to depopulate the planet:
"Male and female sterilization and IUDs can be made more readily available through mobile facilities (such as sterilization vans in Thailand) or periodic "camps" (such as vasectomy and tubectomy-camps in India and IUD "safaris" in Indonesia)."
To illustrate how serious the World Bank is in achieving the overall strategy objectives on population control, the report makes use of outright threats:
"Population policy has a long lead time; other development policies must adapt in the meantime. Inaction today forecloses options tomorrow, in overall development strategy and in future population policy. Worst of all, inaction today could mean that more drastic steps, less compatible with individual choice and freedom, will seem necessary tomorrow to slow population growth."
In the preface, then President of the World Bank and 1985 Bilderberg attendee, A.W. Clausen stated:
"(…) although the direct costs of The World Bank programs to reduce population growth are not large, a greater commitment by the international community is sorely needed to assist developing countries in the great challenge of slowing population growth."
"(…) governments can use incentives and disincentives to signal their policy on family size", the report continues. "Through incentives, society as a whole compensates those couples willing to forgo the private benefits of an additional child, helping to close the gap between private and social gains to high fertility."
To give an adequate illustration of the World Bank's preference for all-out government control over the people, and their intent on meddling in people's personal decisions, the following quote will suffice (page 107):
"By taxing and spending in ways that provide couples with specific incentives and disincentives to limit their fertility, government policy can also affect fertility in the short run. Government can offer "rewards" for women who defer pregnancy; it can compensate people who undergo sterilization for loss of work and travel costs; and it can provide insurance and old-age security schemes for parents who restrict the size of their families. Each of these public policies works through signals which influence individual and family decisions- when to marry, whether to use contraception, how long to send children to school, and life expectancy, and whether and how much family members work."
Read entire article HERE.