Kurt Nimmo
Infowars.com
February 14, 2012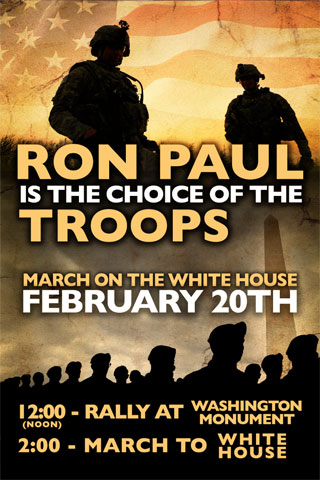 One thousand veterans and active duty troops will shatter the corporate media hoax that insists members of the American military do not support Ron Paul due to his opposition to the unconstitutional forever war agenda of the establishment.
Despite this myth, the New York Times was obliged to admit reality last December, even if the admission wasn't featured on the front page of the newspaper but instead posted on a remote area of its website.
"Representative Ron Paul, the congressman who favors the most minimalist American combat role of any major presidential candidate and who said all of the above quotes, has more financial support from active duty members of the service than any other politician," Timothy Egan wrote.
"As of the last reporting date, at the end of September, Paul leads all candidates by far in donations from service members. This trend has been in place since 2008, when Paul ran for president with a similar stance: calling nonsense at hawk squawk from both parties."
The troops also and not surprisingly support Paul over Obama, who said he would end the wars and bring the troops home and instead expanded the unjustified, illegal and unconstitutional wars started by his predecessor.
Read entire article HERE.