7/25/2012
Huffington Post
WASHINGTON — In a rare moment of bipartisanship, the House overwhelmingly passed a bill by Rep. Ron Paul (R-Texas) to audit the Federal Reserve.
The bill, which has 270 co-sponsors, passed 327 to 98. All but one Republican — Rep. Bob Turner of New York — voted for it, along with 89 Democrats.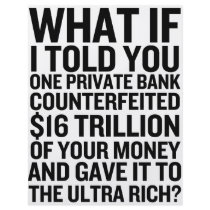 Paul teamed up with former Rep. Alan Grayson (D-Fla.) in 2010 to pass similar legislation that became part of the final Wall Street reform bill. But Paul has said new audit legislation is needed because the 2010 bill didn't go far enough. Specifically, he states on his website that the audit called for in the 2010 bill only focused on emergency credit programs and procedural issues, rather than on the substantive details of the lending transactions. The 2012 bill doesn't limit the focus of the audit.Fed Chairman Ben Bernanke recently told the House Financial Services Committee that he agrees with the "basic premise" that the Fed should be transparent, but raised concerns that Paul's bill doesn't exempt monetary policy and deliberations from its reach.